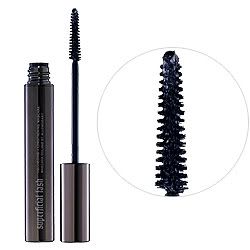 I cannot believe that Xmas is only a week away, where did the time go? Well I've been spending a little time at the mall to BEGIN my holiday shopping so of course I have to stop in my favorite store, Sephora.
While I was browsing, a sales associate saw me looking at the mascaras and told me which one was her favorite one -
Hourglass Superficial Lash
. It is a lengthening, voluminizing mascara. I tried it in the store, and I actually really liked it! Another employee showed me his lashes, which looked really good, very full and long. The good thing about this product is that it is enriched with Vitamin E to keep lashes soft and made without sulfates, synthetic fragrances, synthetic dyes, and phthalates.
I'm not actually very big on mascara since I always have problems with mascara smearing and eyeliner smearing underneath my eyes after a long day, but I do wear it out and on special occasions. This mascara def has good potential! Its a little pricey at $26 but thats not much different from most of the mascaras at Sephora, Diorshow is $24 and they're all around that range. I would def give this mascara a chance and if you ever stop by Sephora, test it out! Although the brush makes a difference in application of mascara, it doesn't hurt to see what it can do even without the special brush, it can only be better with it :)