My friend Alex has been asking me to write an entry about eye creams. I haven't used very many eye creams, but I have read a lot of reviews that I wanted to share as well as the ones that I have used. My main use of eye cream is to prevent wrinkles and improve the skin texture around my eyes. I don't really have any huge bags or any really dark circles yet, but I think its super important in keeping the eye area hydrated and use eye cream as a preventative measure.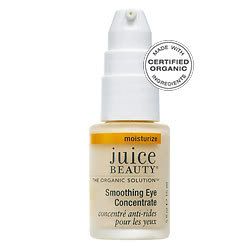 My first eye cream was Juice Beauty "
Smoothing Eye Concentrate
". I got it as a recommendation from lady who worked at Sephora. She counseled me about a few of the eye creams and this one was in my price range. The great thing about this product is that its all ORGANIC and it contains a "Japanese green tea to comfort and help reduce puffiness." The BAD thing about this is that it made me break out a little bit, I a little white bump on my lower eye area. I stopped using the product and waited for my skin to clear up. I might have been using it over excessively and it must have clogged my pores so thats def. something you need to watch out for with this and any eye cream out there. Because it created milia for me, I can't fully recommend this product, but I think if you don't use it excessively everyday, it might be okay. The only thing I could think of was that I used the product everyday and maybe I should have used a lesser amount underneath my eye area.

*Note
I got an email from a reader stating "Try using Juice Beauty's smoothing eye in small amounts. That's the beauty of it--it's super concentrated. It's a
great eye cream
"
So maybe if I wasn't so overzealous with the product being my first eye cream and freaking over about nothing thats really there yet then I wouldn't have encountered the problem I had. So with that said, maybe its worth a try! Just use a small amount :)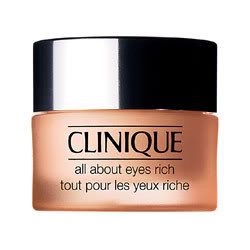 My current eye cream is Clinique "
All About Eyes
". I have had no problems with this product so far. No huge changes in the appearance of my under eye area either (but at the same time I don't have many complaints). This product was reviewed very positively by DeLush, which is one reason I got this product.
DeLush
is a beauty website that I read often to get my fix on specific beauty products. I'm gonna summarize only a few products they recommended to get, but you can read their full review on their website plus a lot more products!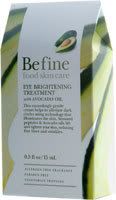 BeFine Eye Brightening Serum
Ulta $19.99
- good results with brightening dark circles but not so much in reducing wrinkles.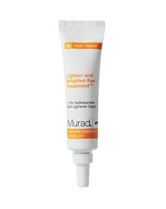 Murad Lighten & Brighten Treatment
$75.00 (15 ml)- steeper price, good results with staying power, but must be used with SPF due to possible skin discoloration from sun. "Dramatically reduced dark circles by an average of 59%* and under-eye bags and puffiness by up to 50%** with this scientifically proven treatment."

MAC MoistureLush Eye Cream
$30.00 (15 ml) was also reviewed very positively by DeLush stating that it did a great job minimized tiny lines and reducing puffiness associated with lack of sleep. I wouldn't have ever thought of using a MAC eye cream, but its worth the consideration.
Boscia

Enlivening Amino-AG Eye Treatment
$38.00 (15 ml) was reviewed well by
Lipstick is my Crack
, which she raves on how amazing this product was for her under eye circles. Definitely worth a try. Could potentially be my next purchase.
This
AVON product
"ANew Clinical Eye Lift" has won a lot of awards! I don't know too much about it, but I would love to hear more about it! Its in the price range that I'm looking to spend as well, a little cheaper than the Boscia.
Laura Mercier
Night Nutrition Renewal Eye Creme
$45.00 (15 ml) - I haven't heard too much about this one yet, but I'm interested in knowing more about this product as well.
From the blogging reviews online, I would recommend for overall eye cream, try
MAC MositureLush Eye Cream
or
Clinique All About Eyes
and for reducing those dark under eye circles, try
Boscia Enlivening Amino-AG Treatment
or
Murad Lighten and Brighten Treatment
. I am personally most interested in
Avon ANew Clinical Eye Lift
and
Boscia Enlivening Amino-AG Treatment
. All products work differently on everyone, but you should def. start using a product if you haven't started for preventative measures at the very least!