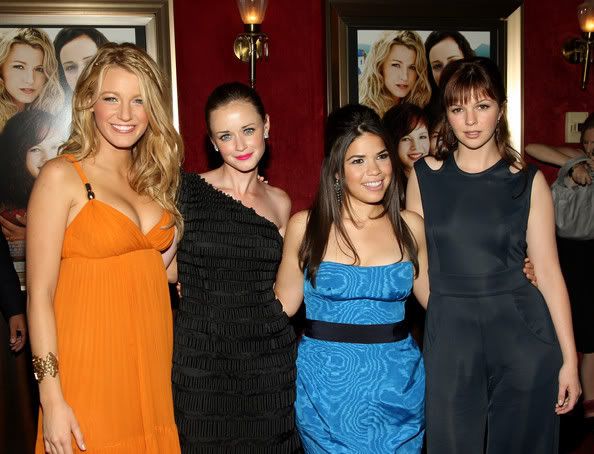 Monday was the premiere of Sisterhood of the Traveling Pants 2 at the Ziegfeld Theatre in NYC. The girls all looked ravishing, well I'm not sure if I'm really liking
Amber Tamblyn's pant suit, it would have been nicer if she wore a little dress or something, but anyway, I'm especially loving the other girl's dresses. It's been a while since I've seen Alexis Bledel on the red carpet, but she looks so pretty! Her outfit is amazing on her and she has some great makeup on, the slightly fuscia lips and minimal makeup really show off her piercing blue eyes.

Ugly Betty

actress, America Ferrera looks so vibrant in blue, much change from her character on the show! I loovee Blake Lively's hair. Its always so wavy and I liked how she added a few braids in it with her boho chic maxi dress. I had to add a picture of Leighton Meester, who came to support her fellow

Gossip Girl

castmate. As usual, she also look so very lovely. So simple and chic in a little black dress. Enjoy the movie if you guys go see it and let me know what you think of it!