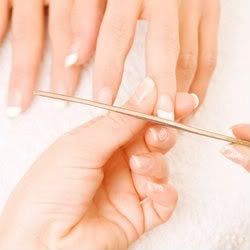 I got a manicure and pedicure for the FIRST time about a month ago! I know, way long overdue! It was quite a nice experience, someone pampering you and they def do a heck of a better job at painting my nails than I do! I have a hard time sitting still and waiting for my nails to dry. Even still, the minute I walk out of the salon, I chipped a nail by brushing my nails by the zipper of my purse accidently.. oops! But it def got worse day by day.. but my pedicure stayed on nice and long. I had them painted with OPI Swedish Nude. I love this color!! It is a nice, thick whitish creme color. BUT its currently discontinued! The only place I can find it is online at some random
beauty stores
or
ebay
:( I am so sad! Any suggestions on another color?
Some suggestions on keeping your nails in tip top shape from Ji Baek, famous NY manicurist who wrote the book
Rescue Your Nails: A Do-It-Yourself Guide to Perfect Fingers and Toes
& some others:
1. Make sure your tools are clean!
Boil or bake (375 degrees) the
tools
for 15 minutes, or soak in rubbing alcohol for 10 to 15 minutes.
2. Trim, file and then buff your nails to a desired length
.
For weak or fragile nails, Baek suggests filing in one direction, rather than back and forth. For pedicures, this is where you would next use a
Diamancel file
and scrub dead skin from the heels of your feet.
3. Soak hands or feet in warm water
and gently push back your cuticles. Trim the excess skin from cuticles, but be careful not to overtrim since cuticles protect our nails.
4. Moisturize your hands!
5. Apply Base Coat, Color & Top Coat
Apply a thin layer of base coat and let dry completely. Then, add the color, slowly and also in thin layers, avoiding sloppy glops. Base coat is important because it holds polish in place so it lasts longer.
Paint the white tips following the contour of your natural nails, but don't worry if you paint the white polish messy. When the polish is still wet, clean the brush in nail polish remover before running it along the near edge of this white tip to clean up the lines. This will leave you with perfectly even, accurate white tips. Use a pale, sheer, pink polish to paint over the whole entire nail. End with a top coat to seal in your manicure
*tip from lil one
: use acetone on a brush to create clean white tips.
6. Don't rush! Take your time!
.
Allow your nails proper time to dry. Don't tempt yourself in using your phone or computer.
7. In order to maintain your manicure and pedicure
, apply fresh coat of top coat every three days & try not to use your nails as tool! i.e., opening can of soda, peeling a sticker, etc.
Right now I'm trying an easy-to-do-kit by
Sally Hansen
for those of you who are kinda lazy like me! I'll let you know how it turns out :)
Source: NYDailynews.com, Ivillage.com, Findarticles.com