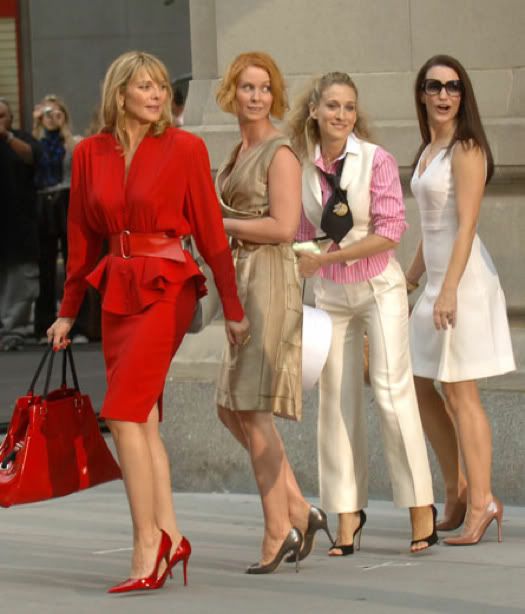 The buzz has been all over for Sex and the City the movie, but did it deliver?
Grossing
over
27 million dollars
on the first day and
over 55 million
this weekend, it beat out Indiana Jones and the Kingdom of the Crystal Skull. Its the
no. 5 opening for an R rated film
and the
b
est movie opener for a romantic comedy
and
T.V.-adaptation
.
Our favorite stylish ladies sure now how to bring it!!
With this SATC craze, everyone is bringing out their Jimmy Choos and cosmos for a movie pre-party. "Prior to Friday, Fandango reported that a survey of "Sex and the City" ticket buyers showed that 80% of all purchasers planned to attend a party devoted to the movie, and two-thirds planned to have Cosmopolitans, the signature drink of the television series'characters."
Okay so I have a secret: I haven't seen the movie yet!! I watched Indiana Jones with my dad and my brother this weekend... there was NO way to convince them to watch SATC. But for the sake of family bonding, I had to forgo SATC for Indy 4. But don't worry, to make it up, I'll have some crazy SATC party with my girls! SATC is the perfect reason for a girls night out!
Question: Did you have a SATC pre-movie party? Which character did you dress like? :)
Source: EW.com, Marketwatch.com