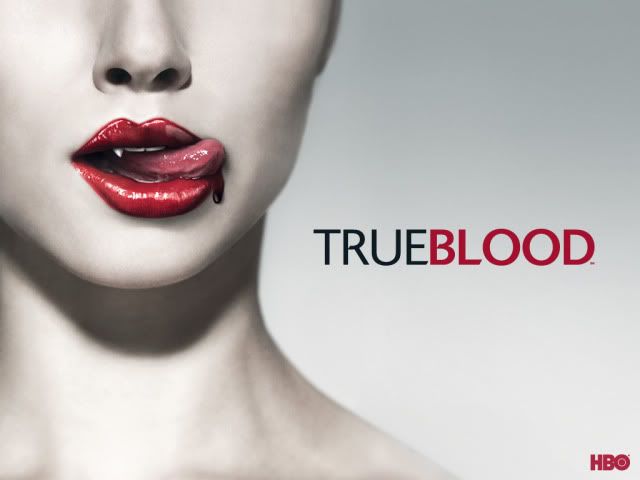 Vampires are all the rage now especially since the whole Twillight craze. I never got into Twillight b/c of all the hype and I just felt I couldn't buy into it. My cousin, however, got me ADDICTED to True Blood.
True Blood is based on the Southern Vampire/Sookie Stackhouse series by Charlaine Harris. It is about a telepathic waitress named Sookie Stackhouse who lives in small town, Bon Temps, Louisiana, who falls in love with a vampire, Bill Compton. Vampires have "come out of the coffin" and now live in co-existence with humans. The Japanese have created synthetic blood, which allows them to live off instead of feeding off of Humans. Although not all vampires have decided to "mainstream" as Bill, which means living peacefully with humans, this series takes you through Sookie's adventures with Bill, the Vampire World, and other crazy creatures of the world.
It sounds really crazy, but I absolutely loved the first season of this show! Some scenes are a little graphic definitely in the second season (which of course never as good as the 1st), but its also HBO, so they def. don't censor like prime time t.v. Anna Paquin plays Sookie Stackhouse, Bill Compton is played by Stephen Moyer, and they have incredible chemistry on-screen together! I like how Sookie's character is a strong girl who is willing to fend for herself, her family and friends. Sookie's brother (Ryan Kwanten) has his hands full with various women, but has a good heart. Her bestfriend Tara (Rutina Wesley) is a hard, sarcastic girl, who works with her at the Bar, owned by Sam (Sam Trammell), who is also in love with Sookie.
I would def recommend the show if you're in for something a little different, and def if you like vampires!

This is a perfect time to start the series if you guys are trapped in SNOW like us in the D.C./Baltimore area!