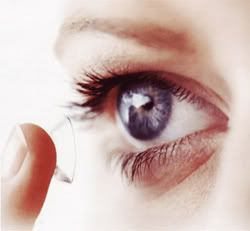 I'm hugely a contact lens wearer, I've considered the possibility of LASIK, which I may discuss in another post, but for now contact lenses it is! Here are some tips about contact lens wear and care! But of course any questions you have about your own eyes, you should discuss it with your eye care practitioner! I feel like I had to put that in :) haha.
If you're gonna be out on the town drinking, no matter how tired or drunk you are, don't forget to take off your contact lenses before you go to bed!! Alcohol dehydrates your eyes which makes your contact lenses adhere tighter to your cornea, which will increase the risk for a corneal abrasion (scratching the eye when you take them off), which can definitely irritate your eyes and make it feel like you have something under the eyelid. In general, wearing contact lenses overnight, increases your chance of an infection. Don't forget to use some rewetting drops if your contacts/eyes feel a little dry, a good one is
Optive
or
Blink
tears, but there are tons at the drugstore you can pick up over the counter.
When you are storing your contact lenses, make sure you a multi-purpose solution such as
Opti-Free
or
Renu
(click for a 2 dollar coupon!). Even though some of those solutions may taut a "NO RUB" solution, don't listen to those because it takes you squirting your contact lenses for like 15 minutes to actually get off all the debris/bacteria or you could gently
rub your lenses
to make them as clean as possible! Always use new solution every night and store them in a contact lens case.
If you really hate rubbing those lenses, try a daily disposable contact lens that you can just throw out everyday after you're done wearing them or use
Clear Care solution
. This is a hydrogen peroxide solution that cleans your lenses without rubbing them! You CANNOT put this solution in your eye or it will BURN! My brother and my cousin has the unfortunate accident of using my Clear Care solution to rinse out their lenses for a second and ultimately felt the burn of this! Your contacts need to be soaked for a minimal of
6 hours
so the hydrogen peroxide solution can neutralize. This solution is probably only good for those who are willing to take out their contacts earlier or sleep at least 6 hours, which most of you should anyway!
Hope these tips help to keep your eyes healthy! :)
pictures via austincountyeye.com, walgreens.com, renu.com