For the season 4 finale of The Hills, everyone came dressed to impressed. Lauren looked lovely in a colorful sequined 3.1 Phillip Lim, Whitney repping her workplace, in a Diane von Furstenberg design with a flowered headband, and we've seen this look before from Audrina, but its a look she does well with an Alexander McQueen dress.
Lauren "Lo" Bosworth was looking cute in a sequined top and mustard skirt, and you might be wondering who she was wearing and you might be surprised to find out
FOREVER 21
! Sure she is looking cute, but when everyone else is showing off designer duds even Stephanie Pratt and Holly Montag wearing Alexander Wang and Prada, respectively, and here she is rocking Forever21... which is pretty much known for their cheap knock-offs! Don't get me wrong, I love finding a great cheap dress or skirt at F21, but for a big premiere where my co-stars are wearing the latest runway trends, wouldn't you want to step it up as well? Plus I think its interesting she is wearing the EXACT outfit shown on the
website
. What do you think? F21 for a budget conscious fashionista or she should have gone high fashion glam?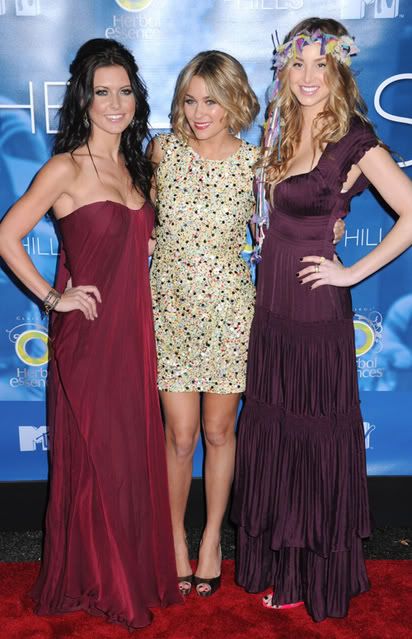 Is anyone excited for The City? I'm excited to see what Whitney will be wearing to work. I was never a huge Hills fan, but Whitney was my favorite out of the bunch... so drama free (would have been so much worse if the show was about Heidi and Spencer), so I'm happy she has her own show, hopefully it won't get to her head!