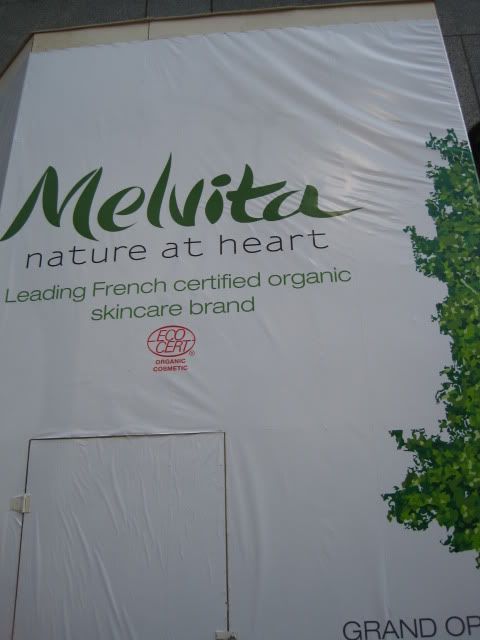 On my last trip to San Fran, I was in the downtown shopping area and I saw a store front launch for
Melvita
. I immediately took a picture of it because it was my next product to review! I've never heard of this brand before, so I was really excited to find out more about it and I always find it MUCH easier to buy things at a store, where you can try the product on and don't have to deal with the hassle of returns if necessary.
Melvita is a company founded in 1983 by a French biologist, who developed their first product from bee hives. They were one of the first companies to earn the ECOCERT certificate for their
organic skin care products
. Their products fall under organic and natural guidelines, they do not test on animals, and their packaging is recyclable!
I was able to review the
Fondant Body Balm
through a sample from the company. I was taken a back from the strong apricot smell when I first open up the container. This was different for me considering I usually shy away from using scented body products like the Victoria Secret lotions or Bath and Body works lotion, I usually go for good 'ol Vaseline non scented lotion or Aveeno! But I wanted to try the Body Balm due to getting over cold weather skin and transitioning into summer ready skin show ;)
This body balm was really moisturizing. It contains cocoa, shea butter, safflower and sunflower oils combined with thyme honey and stevia leaf to give comfort and moisture to the skin. It was a thick creme that went on smoothly on my skin. It definitely provided good moisture throughout the day and it didn't have a strong scent on as when I opened up the container immediately. The downfall of this product as with other balms, is that its not in a easy dispense container, you just open it up, scoop up as much as you need and use the product. Considering the thickness, I don't know if any balms out there are in those squirt dispensing containers. I would DEF recommend this product because it does a great job at moisturizing and a bonus is that its organic!
**UPDATE: Melvita has already opened up their first store in S.F. on April 28th :)